Introducing... YEBO! Our new used catamaran!
Yebo = Yes in Zulu.
Specs:-
Hull - Fiberglass
L.O.A - 44'
Beam -24"
Draft - 4'5"
Displacement - 10 ton
Mast Height - 68' raked
Water Capacity - xx gallons
Fuel Capacity - xx gallons
Designer: Dean Catamaran
Engine: twin Yanmar xxhp
Electrical: xx
Sails & Rigging: Cutter
Additional Equipment: xxx
The new boat!! Yebo is actually a 2000 model but still new to us. The name Yebo is Zulu for "yes". We plan to keep the name as we think of her as a survivor of a hurricane and still saying "yes" to cruising! Or "yes" to life, "yes" to dreaming or whatever. She is a 44' Dean Catamaran built in Cape Town, South Africa. She underwent some hurricane damage that had been mostly repaired before she came into our possession. There are a couple of finishing touches on the deck for Justin to take care of as well as one hatch that needs to be replaced. Actually it needs to be installed - it's missing at the moment! The interior work we plan to completely refit. The electronics were ruined by water damage and we will be replacing the wiring, breaker panels etc. The layout is below. Click here to see Yebo Upgrades!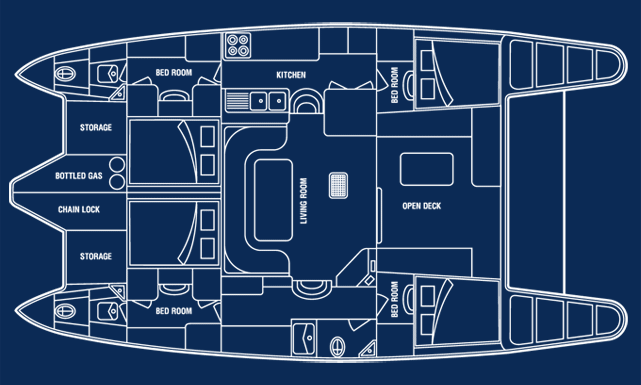 Below are a couple of pics sent to us by Yebo's first owner. Thank you Ed Harary for sending them to us. It is nice to see Yebo in all her glory and it is very helpful for us to get an idea what things looked like before the damage to the cockpit framing and other areas.
Sorry, those pics seem to have disappeared, lost in cyberspace - I will upload the when I find them.