April 2008, Palatka, Fl
So I figured it is time to put some pics of the boat up. We have been reluctant to do so because she looks soooo bad. But the time has come and so, here you have it - the below pics will show the dirty truth of repairing a boat and fitting it for sea!
Below is a photo of Justin's handiwork! He chopped and sanded all those bits of the starboard hull out and is replacing some some of the coring and strengthening her weak spots with new fiberglass. Looks a bit like a patchwork quilt boat!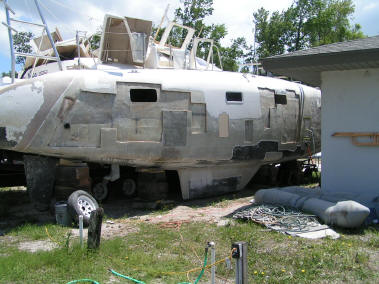 The starboard pontoon bow (not shown here) was a repair job that we were happy with and we just had to put some additional fiberglass on the exterior & interior. Unfortunately, many a love bug were around that day and lost their lives in the resin on that pontoon. Bless em. But now we will sail "the love boat"! Hee hee - okay not that funny.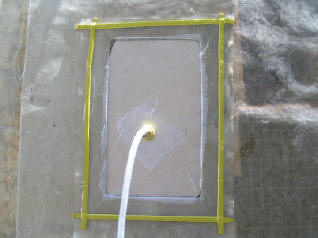 Above left is the vacuum machine that Justin built to get the foam coring to properly adhere to the curvature of the hull.
Above on the right is 3/4 '' foam coring is sandwiched between the fiberglass sheets on our starboard side. Then it is vacuumed into place with (Looks a little like SpongeBob Squarepants!)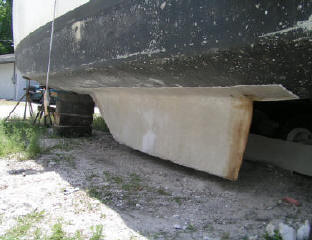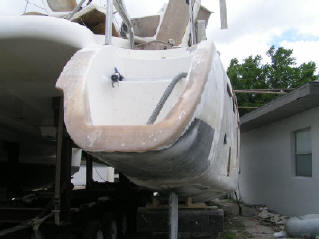 Port keel minor crack repair & starboard swim step reinforced now.
Justin gets Aaron with "Elephant Snot" - the actual name of the blue tac stuff he is using for various boat jobs.
Boatschool is going great. Aaron is really coming along with his reading and Abigail is loving science this year. We have butterflies this month as part of our life science! It was pretty cool to watch their life cycle from egg to larvae to butterfly. I think that we had around 20 cocoons in all. Every time we go out I think Miguel is torturing them though. We sometimes come home to find the terrarium upside down and concave. We've lost one butterfly due to Miguel's torture. Needless to say, Abigail is quite cross with the cat at the moment. Our veggie/herb garden is going great guns. The kids fight over who gets to water them so they shouldn't die on me (unless they get too much water)!
Soccer has been a fun experience. The kids have really enjoyed being a part of something. Aaron, our gung-ho child, was quite an aggressive little player - not surprising to us as his first word was ball. Abigail, our cautious child, only put foot to ball in her 4th game! They are so wonderfully different and unique. It has been a joy to watch them grow and develop their skills and, of course, make new friends!