January 2009, Palatka, Fl still
Happy New Year! We have thoroughly enjoyed the break from working on the boats and made the most of the holidays, eating too much, watching too many movies, vegging out and having fun.
We took some time out to go fishing which was rather wonderful! We went to the beaches to fish instead of fishing for the usual catfish, eels and stingrays that we catch in the St Johns River! What a delight, we caught Whiting, Bluefish, Drum, Sheephead and a couple of sharks to boot! Abigail started out with her nose in her Nintendo DS but eventually came out of the "Pokemon" zone and joined us. She caught one of the sharks (a small sandshark) and a fish. She tells us that fishing requires a lot of patience, "but the good kind of patience because you wait and wait and wait and then something amazing happens!" I think she had a great time and is looking forward to a lot more fishing in the Caribbean. Aaron, has the patience of a fly and therefore casts and reels, casts and reels repeatedly. He was happy enough though so we left him to it. Amazingly he still managed to hook a Needlefish, yay Aaron. He got his head stuck between the bars as well. Then a nice Cuban lady gave him a tangerine because she was so concerned about him. I guess we are just used to him. In the last week have had to put ice on 4 new boo boos! Aaron is very friendly and talks to anyone who'll listen so he made pals with everyone else that was fishing nearby. We overheard a few of his ramblings, "My Dad caught the only Sheephead caught on the pier today," "My Dad caught a giant shark," "My Dad is from South Africa," "I am a sailorman and a fisherman". One fella who patiently listened to Aaron rivet on eventually told him that he doesn't speak English, so Aaron says, "Oh, you speak Spanish?" and the man told him, "No, I from Ukraine, speak Russian, you understand?" Aaron stopped telling him how to put his fish in his bucket after that. They fished for hours and hours and we broke up the day with a play in the surf and walk along the beach. I took time out to bury them both in the sand as well which they managed to get out of quickly when I mentioned some crabs live in the sand! Justin caught the other shark, a Bonnethead shark and the pictures shown here were taken from a pier several feet up from the surface of the water so I don't think you can tell from the photos but this shark was about 4ft long. Papa didn't catch any fish so we plan to go fishing again before he has to go back to GA to give him another shot at it. We cooked everything we caught except the sharks and needlefish and it was great. Fresh fish and chips! The kiddos tried everything but only liked the Whiting, my favorite too.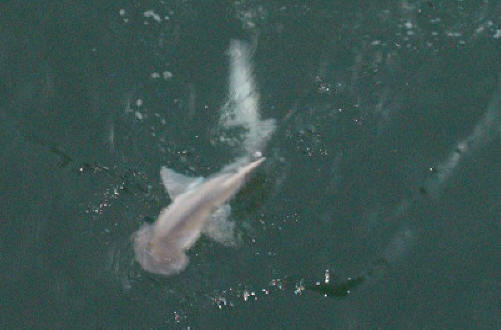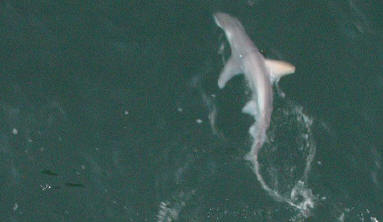 Sphyrnidae (Sphyrna tiburo) bonnethead shark
Atlantic Ocean off Flagler Beach, Florida
Abigail, playing at Fort Matanzas Beach, Fl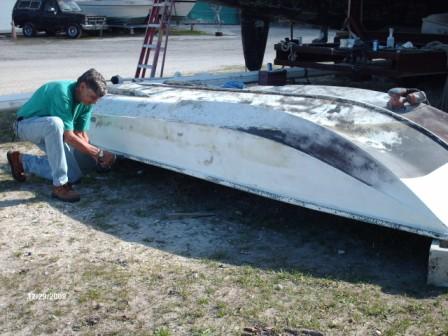 My Dad' has been helping me sand down "Cool Blue". She has a lot of crazing so I am having to sand back as much as I can, almost to the fiberglass. We have some high build primer to coat her in before painting which will hopefully do the job. Several cracks and repairs to be made on her but all in all not bad shape for a 1969 Boston Whaler.
Side note - If any women reading this are thinking of doing a bit of boat work but unsure how to go about it, do not fear. I have Justin to tell me what I should be doing but if I did not, I would not even have had to read a book because all the guys in the yard came to offer their advice. So all you would have to do is get your boat to the yard, stand somewhere in the vicinity of the boat, wearing a mask and safety goggles with a sander in hand and wait for all the fellas to see what you are about and what you are doing and offer their advice! I think you could even get them to show you how to do it too and get them to do some of the work ! He he ;)
Pics of Yebo to come still.....