July 2007, Fort Lauderdale, Fl

With the generator fully installed (exhaust, water & electricity hooked up and wired) we are ready to move the boat. I know we keep saying that every month but honestly this is it. We went to the stuff mart yesterday and provisioned for the move. Mainly lots & lots of water and drinks as it is so hot and we will not be able to run the ac unit underway. Bummer. We will however, have a working fridge and freezer which is a huge bonus. Right now we only have the freezer going and a couple of coolers for fridges. So, we sacrifice ac but gain a fridge for the move. Actually if we get desperate we can run the ac off the genny I've been told. We also stocked up on bug spray, citronella candles, mosquito coils etc., etc., etc. Made the obligatory trip to West Marine for some odds and ends. The kids will miss this particular West Marine as they have a wonderful kids area complete with legos and knot making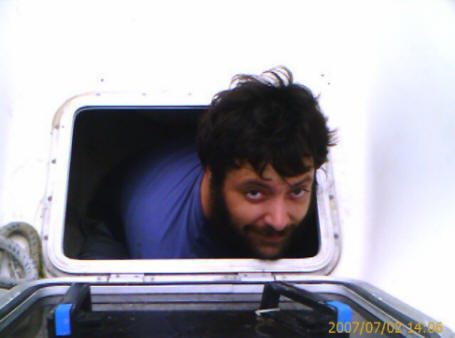 .
I have finished sanding and painting the big ginormous cupboard and we can now utilize all that storage space. It's marvelous! I also installed shelves in ours and Abi's cabin's for extra storage. The shelf project has inspired me and I think I'll be doing a fair bit of our woodwork in future.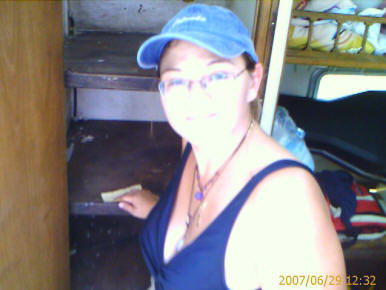 Justin installed a light in the salon which will provide some light at night whilst underway. We got some led battery operated lights from the Stuff Mart. Mostly though we plan to stop and anchor each night as it's an intercoastal move - a novel trip! He also got our chart plotter installed.
Looking forward to our first catamaran experience! Honestly, who buys a type of boat they've never been on before. I can't decide if we are free spirited hippies/gypsies or just a couple of morons. Either way - we will have fun! The sea tow membership is still valid so - no worries!
Up
Jan 07
Feb 07
March 07
April 07
May 07
June 07
July 07
August 07
Sept 07
Oct 07