May 2007, Fort Lauderdale, Fl

We are still in Fort Lauderdale! The marina moved us to a new location - in their lifting bay - so we no longer protrude too far into the river. We haven't had any more visits from the police or the DEP - thankfully. Condo people are too far away to be annoyed by the likes of us.
Here's the update on boat jobs completed:-
2 working engines

2 instrument panels wired in the cockpit with idiot lights, i.e. "check oil"

steering cables cleaned, connected and working

Nav lights wired and working

Anchor light (Edson light wired to a battery charged via alternator)

1 Anchor (Delta - our fav anchor)

1 rebuilt generator - by Justin.

used dingy scrubbed, patched up and ready to go

life jackets for everyone (again)

Genoa sail packed on boat

Mast stripped and ready to be trucked to us

2 manual bilge pumps

running water!

1 ac unit running on shore power - yea!

4 clean cabins

2 clean heads

7 clean galley cupboards

1 heat shrinked porthole

no more salon leaks (temporary fix with some tape!)

crabs caught from the bilges - 1 by Migsy (we found 2 legs and a claw)!

Cuts scrapes & bruises- many
Not bad really for 2 1/2 months work! Phew, I'm exhausted, this is more work than I've done in years!
Justin has made a trip up to Maryland to move Colomba to a different marina for summer.
Occasionally we do get out and have some fun! It isn't all work, work, work as you can see by the pics. The kids are doing really well with their swimming. Happily going underwater now and doing somersaults!
We've been helping the family/owners here look after an orphaned kitten. They are keeping her. They found him when he was just a few days old. They let us feed him once a day for them - not much help when you consider he eats every hour or so! The kitten looks a bit like a skunk - all black with an orange/white strip on his head. His name... Skunky, aka Skunky Monkey!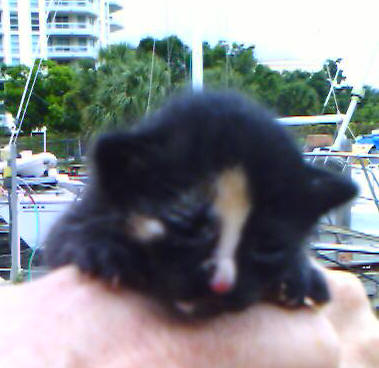 We plan to make the trip to Palatka sometime this month.